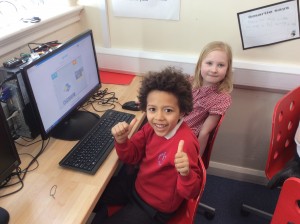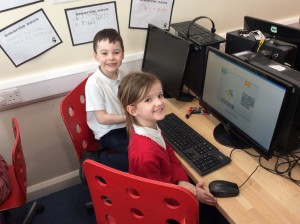 On Tuesday year 2 were very lucky because we had some visitors who were experts at doing scientific computing. We had to create some algorithms but we already knew what this meant. An algorithm is like an instruction that you follow.
We used a program called Lightbot. Our job was to create algorithms so that Lightbot would move and turn tiles from blue to yellow. It wasn't easy because we had to turn him the right way and sometimes he had to do a few jumps!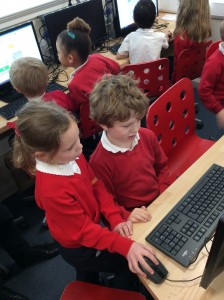 Next the expert Chris taught us how to use crumble. Luckily he also brought two helpers who were also very useful. Our job was to make the sparkle light up by creating an algorithm on the computer.  Once we had done that we added all the colours of the rainbow and it looked beautiful!
"My favourite part was making Lightbot move from one square to another" – Charlie.
"The best thing about my day was being with my partner Michael" – Fern
""I learned how to use a crumble properly" – Edith
"I learned that another word for algorithm is programming" – Rebecca.
"I learned how to program the colours of the rainbow on a sparkle" – William