Hi everyone in Early Years! We hope you enjoyed your first week back after half term? Thank you for helping us solve the clues in our gardens, we need your help again this week…
O ooh! We've found footprints! Can you see them? Whose footprints are they? Are they yours? Why not? Can you see the bucket? Who does that belong to? Can we measure the footprints? What will we use to measure them? Are your feet larger or smaller?
Literacy
Task 1: Can you write to tell the teachers about the footprints. What are your thoughts? Remember to write in sentences. Use Lego/Duplo bricks to measure different things around the house. Can you estimate how many bricks you think something will be before you measure it? Were you close? Record in your own way what you measure, your estimation and then how many it really measured. Can you measure some items using your footprint too – how many feet? What about making your own dinosaur footprint (how big would you need to make it?)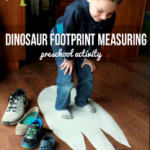 Task 2: Listen to or read Harry and his bucketful of dinosaurs (This can be found on Tapestry) Have a go at saying the long dinosaur names. Look at the different dinosaurs in the story and describe them – long neck, 4 legs, spikes etc. Draw or cut out dinosaur pictures (from twinkl dinosaur word mat below) and write a sentence for one or more. E.g. This is a T-Rex.
Task 3: Look up the different dinosaurs from the story and find out facts about them. Can you write 3 short bullet points about them e.g. – It has 4 legs – It has a long neck.
Task 4: Harry and his bucketful of dinosaurs have many different adventures. Watch some episodes of Harry and his bucketful of dinosaurs on Youtube https://www.youtube.com/watch?v=bdftou-U5mE If you had a bucketful of dinosaurs, or maybe a bucketful of other things where would you go and what would happen? Together draw a picture of your adventure. Could you go to Space? On a pirate ship? Don't forgot to upload some of your work to Tapestry, we love to see what you have been up to!
Task 5: Using your picture from yesterday can you write a short story – 3-4 sentences about your adventure with your bucketful of… E.g. One day …. And we saw…. See separate task on Tapestry for some phonic activities for both Reception and Nursery.
Maths (Reception)
Use your own bucket with small objects (could be dinosaurs, or dolls, or stones or shells) use it to say one more or one less. Use to make addition or subtraction calculations. Write them on paper or a whiteboard to match.
Harry and his bucketful of dinosaurs have some problems this week. Can you help them to solve one each day? You can use the items from the bucket or draw the objects.
Problem 1: Harry and his bucketful of dinosaurs go for a picnic. Harry packs 10 sandwiches in his bucket. On the journey the dinosaurs eat some. Harry has 3 left! How many did they eat? Can you use your number line or counting back to solve it? Can you record your working out in a number sentence?
Problem 2: Harry and his dinosaurs are off to school. T Rex brings 6 pencils and Harry packs 7 in their bucket. How many pencils do they bring? Can you use your number line to work this out? Which way will you need to jump? Can you record your answer as a number sentence?
Problem 3: Harry has 10 dinosaurs in his bucket, he has some red ones and some yellow ones. How many different ways could he have these coloured dinosaurs, eg. 3 red and 7 yellow. Can you record all the different ways? (There are 11) Try using a red pen and a yellow pen.
Problem 4: Harry takes 4 dinosaurs on a picnic. They share their food out. They have 10 sandwiches, 15 cakes and 13 strawberries in their bucket. Can they share their food equally between the 5 members? Is there a problem with the strawberries? What does Harry need to solve it?
Problem 5: Tyrannosaurus eats double what Pterodactyl eats. If Tyrannosaurus eats 8 sausages. How many does Pterodactyl eat?
If your child is enjoying solving problems, try changing the items and the numbers. You could have up to 20 items. Can your child recognise when they are sharing, halving? Do they know they are adding and subtracting? Can they spot any number bonds?
Bonus maths activities: Please find some addition sheets from Twinkl featuring the characters from Harry and the Dinosaurs.
Maths (Nursery)
Using your own bucket with small objects (could be dinosaurs, or dolls, or stones or shells) can you have a go at the following?
Task 1: Can you carefully count 5 of your items into the bucket? Remember to say each number out loud as you count. Try it again with 10.
Task 2: Starting with five items from your bucket give some of your items to your grown up and keep the rest for you. Can you count how many you each have? Who has more? Who has less? Can you give your grown up one more? Or two more? Can you carefully count how many you both have now? Who has more or less now? Take turns to give one more or two more. If you would like a challenge you could try it with 10 items from your bucket.
Topic
Well done for some brilliant detective work last week. Lots of you correctly guessed the teachers from the baby photos. Here are the correct answers; Teacher 1 – Mrs Jones, Teacher 2 – Mrs Nelson, Teacher 3 – Mrs Ward, Teacher 4 – Mrs Watson, Teacher 5 – Ms Turner. Well done to all of you who guessed correctly! Did you enjoy talking about when you were a baby?
Talk about what is a museum? Have you visited a museum? Which ones? Did you visit Dippy in a museum? Visit the Natural History Museum – Dinosaur World Tour; www.nhm.ac.uk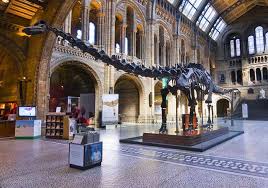 How about doing some dinosaur inspired craft? You could use cotton buds to make a dinosaur skeleton picture.
Or how about making your very own dinosaur feet out of tissue boxes?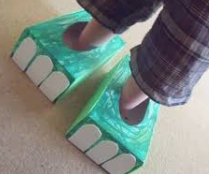 Or have a go at drawing different dinosaur footprints using a range of different things – chalk, crayons, paint.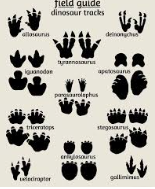 Feelings
Last week we looked at the book 'Worrysaurus' by Rachel Bright and Chris Chatterton.
Over the next few weeks we will continue to think about our feelings. As an introduction you may want to share the illustrations Julia Donaldson has published to show how the characters in some of her well known books are adapting their behaviours during this time. Could you talk together about the changes that have happened recently? For example; washing our hands more often, staying 2m apart or not visiting the shops. Can your child talk about how they feel about these changes? Are there some changes they have enjoyed? For example; playing more in the garden, playing games together or doing more arts and crafts at home?
We hope you all have a great week and enjoy all the activities! We look forward to seeing all your lovely things on Tapestry.