On Tuesday 12th we went to a girls football tournament at south Gosforth first school.
We entered two teams a A team and a B team. There were 8 other teams. We came back with the trophy.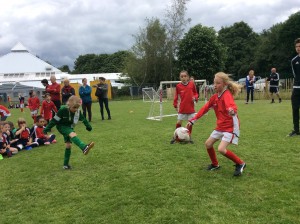 Both our teams got to play 3 matches. It was lots of fun.
My favourite bit was when I scored 2 hat-tricks and1 goal (7 goals), and when we played in the final – Charlotte
I loved playing in the matches with my friends. – Cerys
I am really happy that I scored a hat-trick –  Imogen
In the finals the score was tied so we had to do penalty shootouts and Shona scored.