We are learning about communication.  We wanted to use our school website to communicate.  We wrote a class blog about life in Class 4.  This is what the children wanted to share.
We like to go in the ICT suite.  We like using games like Education City.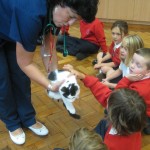 We like when people come to see us, like the vet for our Pets topic.
We like lunchtime because we get a big playtime after.  Also we are very hungry after working so hard in the morning.  The dinner ladies give us a lovely lunch.  We like to play in the big yard.  It is big and we get to see our friends.
We are good writers, we draw pictures to go with our writing.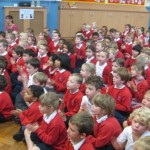 Jack says, "In assembly we get to learn stuff."
Alex enjoys numeracy because he likes to do Maths work.
Rose likes  doing P.E.  We have jump to jump on mats and stretch our bodies.
Ekaitz lies to play in the construction area because I like making models.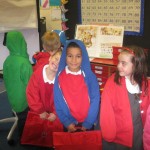 We like hometime because we get to see our mums and dads.