Year 1 have had a wonderful start to the year learning all about their bodies and how to keep healthy. After all the hard work, we rounded up our learning with Ready, Steady, Cook!
To start, the children had to decide what to prepare. We settled on a balanced meal of Traffic Light Pasta and Rainbow Kebabs. After that, we researched where our ingredients come from.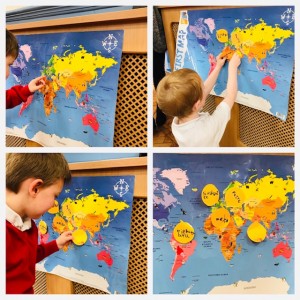 We split into two teams. The Blueberries made the pasta and The Red Tomatoes made the kebabs. Once we split up, we voted for the type of pasta we would use and our favourite fruit to include in our kebabs.
After voting, we needed to write our shopping lists! We then walked to Sainsbury's to shop for our ingredients. A special thank you to the grown ups who joined us; we couldn't have done it without you!
Before we could start chopping, we had a think about food hygiene. We carried out an experiment to explore how hand washing can protect us from germs. Using glitter to represent germs, we found that using warm, soapy water was most definitely the best way to get rid of those bugs!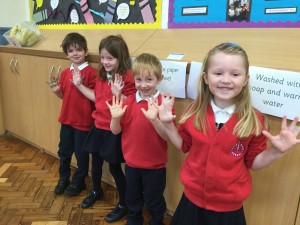 We also created our own posters in Computing and made television adverts using the Green Screen. We found this lots of fun and were amazed how the background changes! It's like we really were in the kitchen!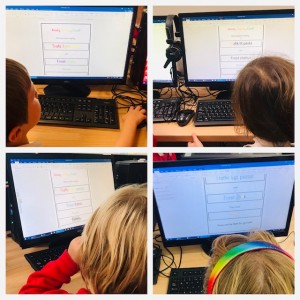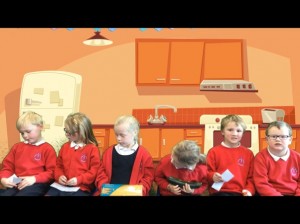 We had a fantastic time using the knives to chop up our ingredients and we concentrated hard on creating a bridge with our hand to hold the items still. We also learned skills such as peeling and grating. Our finished products looked and tasted amazing! Thank you to all the grown ups who came to buy our tasty treats!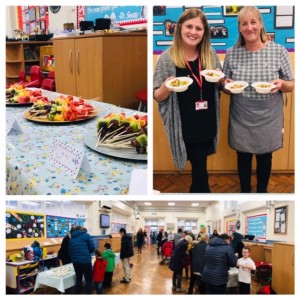 Have a happy half term Year 1, you certainly deserve it!