The children in Year 2 have had a brilliant start to the year! We have been so busy and have learned so much already!
We started the year by looking at materials. We carried out an investigation to see what material would be best for a new basket for Little Red Riding Hood. We decided it would need to be waterproof and hard. After lots of testing we decided wood and plastic were most suitable, but decided to go for plastic because it doesn't rot.
We also tested to see which materials were magnetic. We had great fun using lots of different magnets and were shocked to find out that not all metals are magnetic.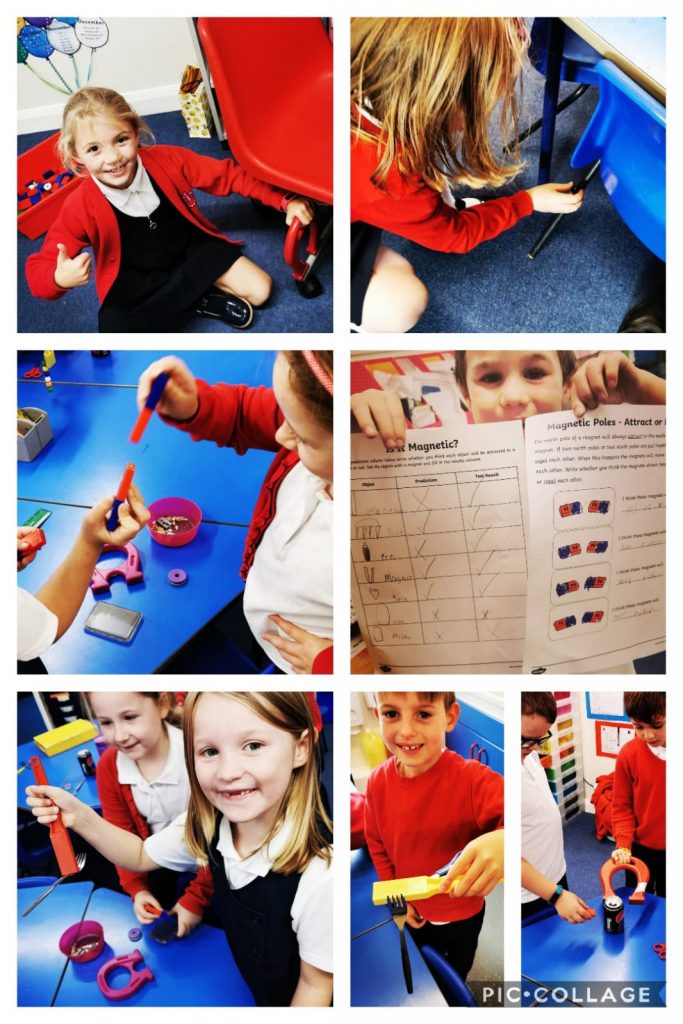 We also have carried out two exciting experiments to explore the absorbency of different materials. We really loved seeing what happened during our 'Walking Water' experiment when the water literally walked into the empty glasses and made different coloured water! We predicted which colour it would make using our knowledge from art!
In literacy, we have read lots of twisted tales, such as Jack and the Baked Bean Stalk and Little Red Reading Hood. We created our own fairy tales as well as making our own twisted tales at home as part of our projects. We have also been reading a book in class, called The Owl Who Was Afraid of the Dark. At the end we created a book review and it proved to be a big hit!
We explored the homes of many woodland creatures and learned lots about nocturnal animals. We were also super clever and could create food chains, including looking at who depended on who in each chain. We also created fact files about different nocturnal animals.
This book also led us to or next strand of science- woodland habitats, micro habitats and food chains.
Looking at woodland habitats also led us to explore a very important issue- deforestation. Through research we learned that we are rapidly loosing our rain forests and that we really need to make people aware that if we don't act soon, within 100 years we will have no rain forests at all. This would mean over half the world's animals would loose their natural habitats. The children were very upset and decided to make some posters to raise awareness!
This half term has been packed full of amazing art! First, we used the illustrations from the book The Tin Forest as inspiration for our beautiful sketching and watercolor art work.
Then we used the picture 'Bathers in Asnieres' by George Seurat as our inspiration for Art Week! We used inference skills to deduce what might be happening in the picture and came up with questions to find out more. We also read the story 'Katie and the Bathers' as a stimulus for our creative writing where we stepped inside the picture. We also created beautiful symmetry painting by exploring reflections in the river.
We have used our fairy tale stories in literacy to explore strengthening materials in D.T. We looked at ways to strengthen Rapunzel's newspaper tower and found that squares, cylinders and triangles gave the most strength. Twisting the newspaper also helped.
We also tested different materials that would make a strong house for the 3 little pigs.
We are sure you will agree that it has been a very busy half term and that the children have worked incredibly hard! We hope you all have a wonderful and well deserved rest over the half term!
By Year 2 🙂