As you know our topic in Year 2 is 'How Can We Give the World a Hug?' Well one thing you can do is go to the House of Objects which is what we have just done! We reused a range of materials to make robots that can help to save the planet.  Some skills that we had to use were bending, folding, cutting, gluing and even sawing! Do you like our creations? We think they might just help make our world a lot healthier. It was a lot of fun and there was even some musical instruments to play. We thought you should know there are some talented musicians in Year 2 – does anyone need a band to perform at a party?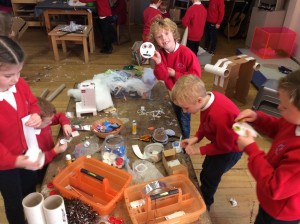 The other part of our day was in Rising Sun Country Park where we braved the cold weather to make some delightful dens. It was important to work as a team and plan carefully. The dens had doors, paths, shelter, seats, washing lines and one even had sticks and logs that could be used as a drum kit!
It was a really den-tastic day!