For the last 3 weeks Reception have been taking part in drama sessions about friendship.
In week 1- we passed our smile around the circle and drew a friendly face. Lots of us drew our friends.
In week 2 we played a game to find out more about friends and made a friend. We talked about what we would like this friend to be like.
In week 3 we freeze framed scenarios of when we helped a friend.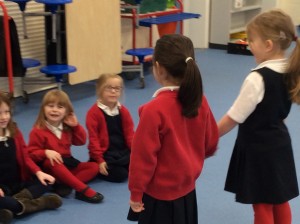 It has been great to hear the children talk about what they would like in a friend and we will continue to reinforce this in the unit.
Thank you to our drama teachers.