This week we have been delighted to welcome two visitors from our Spanish partner school to Archibald. Their visit has been funded by Erasmus+ and is a job shadowing project with a special focus on Science, Art, PE and languages. They have been very busy observing all sorts of lessons and every year group. They have also shared with us about their school with a super power point and video in assembly.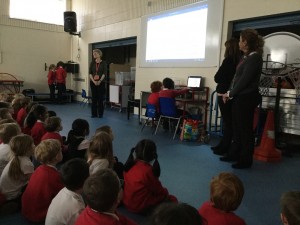 Year 4 pupils have been asking them questions and sharing information as part of their Destination Europe Project.
Out of school they have eaten fish and chips at he pub, been to the coast, the quayside and  will be ending the week with an evening meal with Señora Linfoot  of roast chicken and aple crumble.
Adiós and gracias to  Señora Such Cabot and Señora Gomar Morant .