Did you know that it was recently The FA Girls' Football Week? That's right and we took our very own girls' football club to take part in a football festival at Benfield School!
The festival was run in partnership with Newcastle United Foundation and Northumberland FA. In fact we actually got taught some skills by first team players from Newcastle United Women's Team!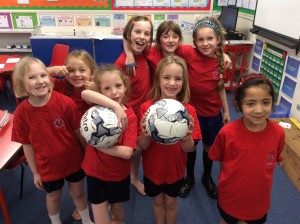 After that we played some matches against other schools in seven-a-side games. Our first match was against West Walker and we won 1-0! Our second game against Byker  didn't go as well but guess what? We bounced back from that defeat with great determination to win our final game 1-0 against Throckley!
Even though it was nice to win two out of our three matches the most important part of the day was staying healthy and showing great teamwork skills. In fact the people who ran the festival commented that we had so much enthusiasm and that we all played very fairly. It really was a football-tastic day!