We went to Shildon Railway Museum on Tuesday 22nd November. Once we arrived we split into two groups.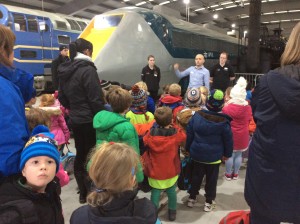 Class 3 did some crafts first. We had to make a train with lots of different parts to cut out. We had to follow the instructions to make sure that everything was in place.
Class 4  had some time with Ian to look at objects that we might find on a steam train.
Eloise – "We looked at old fashioned hats. The hats were once soft, then they got harder and bigger!"
Toby – "They thought that they were the best and most important if they had a big hat!"
Gurleen – "We held coal and a shovel It was really hard because it was really heavy."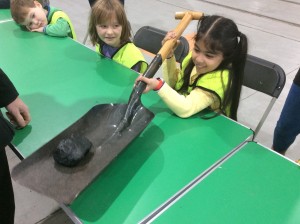 Erin – "We blew a whistle and it was really hard to blow. It went really loud."
Sophia – "It was loud because you had to let the train driver know when to go."
Yeshan – "A man took us inside a train."
Niamh – "We looked at a steam train and we saw where the coal went and where it was put into the fire."
Emma G – "We got to see the royal train. We got to see how it worked and we saw where the Queen would have sat and had her dinner."
We also saw another very special train. It was Timothy Hackworth's train which raced against George Stephenson's and his son's rocket.
We learned that Sans Pereil's steam cylinder exploded and that is why the Rocket won the Rainhill trials.
Charlie K – "George and his son won £500."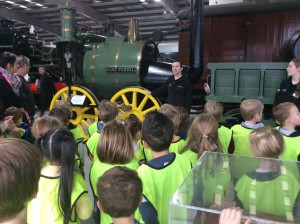 Here is a model of Sans Pereil.
Here is the real Sans Pereil.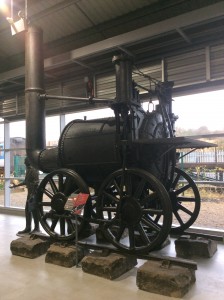 Finally we ate our lunch and then we went back to school.
Sam – "It was fun."
Matilda – "It was exciting."
Layla – "It was cool."
Matthew – "I really liked learning about how to drive a train."