Year 1 had a fantastic visitor at the end of last half term.  Frank Coles ( one of our parents)  came to talk to Year 1 about his visits to the Arctic and the Desert as part of our Sunglasses and Hot water bottles topic.
Frank answered some of our hot and cold qesjins.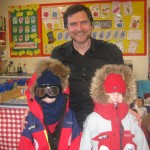 James and Isabella tried on the Desert clothes.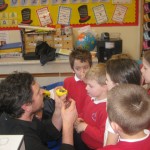 Ruby got a cumpus.
We also had a trip in his polk.
Thank you for coming in.  We look forward to hearing about your adventures next year.