Hello Year 2! We hope you have all had a nice Easter break and that the Easter bunny was kind and rewarded all of your hard work with lots of yummy chocolatey treats! We have all had a lovely break with our families; Mrs Mullick has been enjoying playing in the garden and going on an Easter egg hunt with Edie. Miss Pearson has been tending to her seedlings, ready to be put into bigger pots this week, has cooked some yummy Easter treats and ticked off some jobs for the wedding. She also received some wonderful birthday treats from her lovely colleagues at work (all delivered safely from a distance!). Mrs Tadbeer and her three children have had fun by decorating Easter eggs, playing in the garden and doing lots of Easter baking. Miss. Gowland and her daughters have been gardening, making homemade lemonade and delivering yet more delicious fudge to her neighbours, including Miss. Pearson! Mrs. Patrick has been busy decorating, reading, doing jigsaws and feeding her very hungry boys! Mrs Patrick wonders if you can remember any interesting facts we learnt about the places on her jigsaw? Or perhaps you could find out about the two destinations we did not get to visit, Norway and Australia?


Don't forget to visit the Archibald Facebook group or Twitter to keep us up to date with the fabulous things you guys are getting up to- it really does bring a huge smile to our faces!
We have set you some challenges for this week, I wonder how many you can achieve?
Numeracy Challenge – In numeracy we would have been looking at fractions of shapes, amounts and numbers. Here is a link to 5 online numeracy lessons, there is a video and worksheet to go with each lesson. Can you work with your grown ups through these lessons? It will help you to remember our work on fractions from earlier in the year. Once you have completed this you could use the things in your house to show different fractions, can you cut a pizza into quarters? Can your find 3 quarters of a pot of sweets? Can you colour a rectangle in half in lots of different ways? What about showing different fractions using lego pieces or other toys? Week 1 Maths lessons –
https://whiterosemaths.com/homelearning/year-2/
Keep practising your 2, 3, 5 and 10 times tables. You could try playing Kaboom with a family member to help with quick recall. The rules are simple- write your 2, 3, 5 and 10 times tables onto lollypop sticks, card or strips of paper. Add in a few that simply say KABOOM! and place down into a cup. Take turns to randomly select a stick, if you get it right, you keep it. However, if you pull out a KABOOM! you must place all your sticks back into the cup! You could play for a set time and see who has the most sticks when the timer runs out!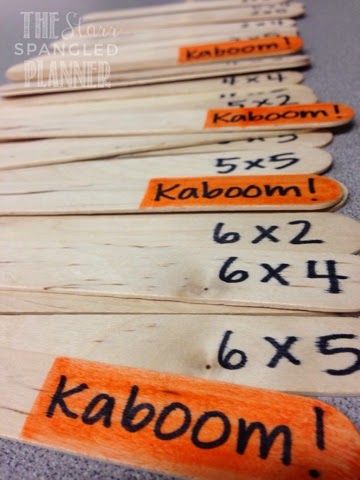 Don't forget to log into TimesTable Rockstar. This week it is boys V girls- who will be victorious?
Problem Solving:
Problem 1: Eggs in a basket: There are three Easter baskets. A brown one, a red one and a green one, holding a total of 10 eggs.
The brown basket has one more egg in it than the red basket. The red basket has 3 fewer than the pink basket. How many eggs are in each basket?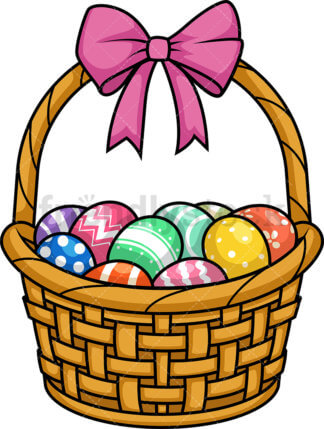 Problem 2: One of thirty-six Can you find the chosen number from this square using the clues below?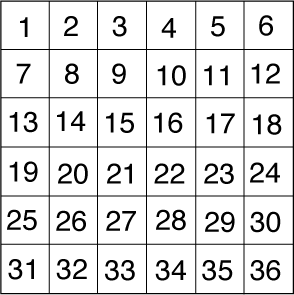 Literacy Challenge – Our text this week would have been 'Gorilla' by Anthony Browne…. Can you remember any other books that we have read by this author?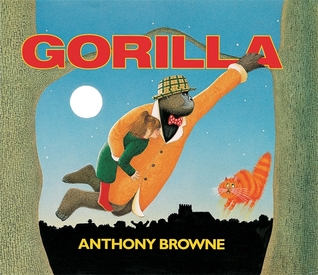 If you have never read the story the here is a YouTube link to it.
Don't worry if you can't watch the YouTube video as you don't need to know what happens in the book to complete this weeks tasks.
In the story the main character, Hannah, goes on an adventure with a gorilla. One of the things they do is go to the zoo to visit the primates.
We would like you to research different primates. Which one is your favourite? Can you produce a fact file, information leaflet or informative poster all about your favourite primate? It needs to be colourful and full of interesting facts!
Topic Challenge – This half term our topic is "Oh, I do like to be beside the seaside!".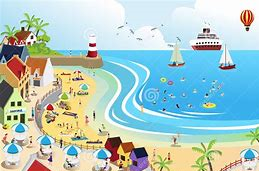 This week we would like you to think about what a perfect seaside town needs. A seaside town attracts lots of tourists every day. These tourists need to be kept occupied and you need to make sure that they have lots of fun so that they return year after year. How will you make sure that your seaside town is the best in the country? What will you need to provide for your visitors? Can you draw, model, make or write about your seaside town and try to persuade us why yours is the better than everyone else's? Think about the seaside towns that you enjoy visiting….what makes them so good? Could you use some of these ideas when you are designing your town?
Here is a video to help you get started. William Whiskerson visits the seaside town of Weymouth. On the way he see lots of tourists and learns more about some of the jobs that grown ups can do. Maybe you will need to use some of these ideas to create your perfect seaside town!
https://www.bbc.co.uk/teach/class-clips-video/william-whiskerson-seaside-town/zd88qp3
Science Challenge – Over the Easter holidays all of the teachers have been enjoying time outside especially going on nice spring walks and exploring in their gardens. Earlier this year we learnt all about microhabitats, a small-scale specific habitat that supports the life of certain animals or plants, we would like you to explore the micro habitats in your garden or in your local area when you are out for your daily exercise. How many microhabitats can you find? Can you record any living things that you find in these habitats? You might want to draw, photograph or create a tally or bar chart of the living things that you find!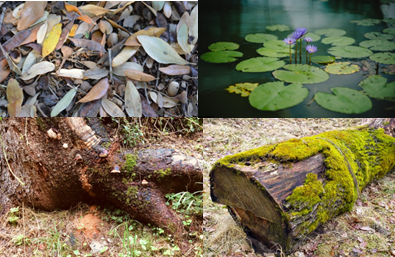 Extra Challenges –
Whilst you are out in your garden exploring microhabitats why not pick an interesting looking plant or flower and sketch it! Can you make it as detailed as possible? How will you make it look life-like? Can you use coloured pencils to shade your work thinking about the different tones and light and dark areas?
Create a spring time poem inspired by Easter, flowers, baby animals being born, nice weather or anything else that reminds you of spring. Can you include similes in your poem? Can you decorate it?
Can you draw, use playdough, Lego, saltdough or any media to design and create a sculpture to go in your new seaside town? Perhaps you will be inspired by Blackpool tower? Will you research the work of Antony Gormley? Or will your creation be 100% original? (an easy make your own playdough recipe is 1 cup flour, 2 tsp cream of tartar

,

1/2 cup salt, 1 tbsp vegetable/cooking oil, 1 cup boiling water, food colouring of your choice and mix together in a large bowl)
Practise your joined up handwriting. Could you write a letter to your teachers telling us what you have been up to with your families over the Easter holidays? Perhaps we can choose some handwriting stars to get the smelly gel pens when we return back to school?
PE: How many can you do in 60 seconds? Can you predict, then record how many; jumping jacks, hops on one foot, push ups and toe touches you can do in 1 minute? Can you try to beat your score each day? Can you beat your teachers? We will post our results on next weeks blog!
PE: Can you create and perform a dance to a song from the Archibald Happy Playlist? We would love to see your performances- perhaps your teachers and friends could try and learn your choreography!
ICT: This year we practised using Publisher to create posters and focussed on adding in funky titles, pictures and changing the colour of the text. Could you use these skills (and any others too!) to create a poster to advertise your seaside town? Remember to make it informative yet eye-catching to ensure the public want to visit!
We can't wait to see what you have been up to so remember to share your work on twitter or our Facebook page. Please do not worry if you cannot get all of these tasks done it is more important that you are safe, happy and healthy. We miss you all so much and cannot wait to see all of your smiling faces again.
Take care and stay safe.
Mrs Mullick, Miss Pearson, Miss Gowland, Mrs Patrick and Mrs Tadbeer.