Being safe is very important especially when it comes to fire! That is why Bart the fire-fighter came to give us some tips.  There are five important steps to follow in an emergency.
1 – Stop and close the door to stop the fire spreading.
2 – Shout fire as loud as possible.
3 – Leave the building.
4 – Find a safe place to wait.
5 – Call 999 and ask to speak to the fire service.
'Matches and lighters never touch, they will hurt you very much' – Iona.
'It was so much fun looking at the fire-fighter costumes' – Jinfan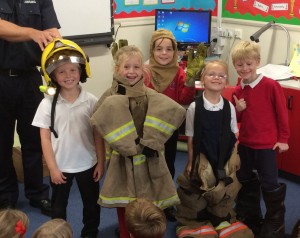 'Watching everyone dress up was so funny, especially because all the clothes were far too big!' – Dulcie.
'Don't ever ever ever play with matches' – Tom.
'You have to shout fire as loud as you can if a smoke alarm goes off' – Tobyn.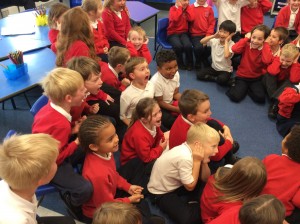 Theo and Isaac were the loudest shouters of all!