Hello Year 2! A huge well done to everyone who completed some of last week's challenges, we really do love seeing them on the Facebook group and on Twitter so please keep posting! Mrs.Mullick has been going on lots of long walks this week, she even discovered a nature reserve and woodland area near her home that she had no idea existed! Miss Pearson would like to share with you her best friend's window, which she changes each week to celebrate our fabulous Key Workers. So far she has produced Lego and dinosaur Key Workers, but she is running out of ideas. Can you help her think of a new theme for her window before 8pm on Thursday?
We have set you some challenges for this week, I wonder how many you can achieve?
Numeracy Challenges: This week we would like you to look at measuring especially measuring length, so get those rulers and tape measures out and get creative by measuring things in your house and garden. Just like last week there are 5 online lessons provided by White Rose that you can follow along and also 5 sets of worksheets to complete.
Week 2 Maths lessons – https://whiterosemaths.com/homelearning/year-2/
Once you have completed these we would like you to find, measure, order and compare different objects. Why not make a leaf college with leaves of lots of different lengths? How many objects around you home can you find that measure more than 1 meter? How many measure less than 30 cm? Can you design a picture of a sandcastle with the measurements on?
Problem Solving: The Roly Poly Challenge!

What do the dots on the opposite side of a dice add up too? Roll a dice once to score points Your score is the total number of dots you can see on all the sides that are showing. You scored 17 points on your roll. Which number is face down? How did you work out you answer?
Literacy Challenge – WE are sticking with the book 'Gorilla' by Anthony Browne for one more week. Well done to all of you who remembered that the other story that we have read by this author this year was "The Tunnel"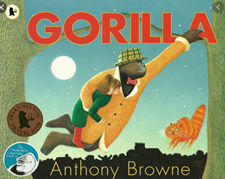 Here is a reminder of the YouTube link to the story. https://www.youtube.com/watch?v=wgaCzuFtKoI
Lesson 1: We would like you to write a character description of Hannah. In your description we would like you to tell us about Hannah's appearance, her likes and dislikes, how she feels and anything else that you can think of. Remember to use lots of adjectives to describe Hannah and conjunctions like so, and, because, or, but to make your sentences longer and more interesting.
If you can't read the story or watch the YouTube video, then here are some pictures of Hannah to help you. If this is still too tricky then write a character description of your favourite character from a book, film or tv show.

Lesson 2: Can you become an author and rewrite the story of Gorilla? You could change the main character, or the animal? Perhaps in your story they will go on different adventures? Will your story have a happy ending? Or maybe you end on a cliff hanger, ready for the sequel! Remember to add in lots of detail, emotion and description to keep the reader engaged. Can you use conjunctions, adverbs, interesting sentence openers and a range of punctuation? We cannot wait to read your own versions!
Lesson 3: There is a lot of dialogue in the story Gorilla. Could you try turning a scene from the story into a play? We have read lots of plays during guided reading sessions but you may like to look at some online to help you understand how to set them out. You can add in extra characters or text if you wish. If you manage to finish this challenge, it would be wonderful if you could perform it either on your own or with your family! You may even wish to record this performance and share it with others.
Lesson 4: SPAG: There are lots of contractions in the story Gorilla, e.g. you'd, didn't, I'm. Can you correctly contract the following words? can not do not he will has not she is they are must not
Can you work out which words make up the contracted words below? won't wasn't she'll you'll shouldn't we're aren't I'd Can you use any examples in a sentence?
Spellings: Here is a mat showing all the words most children should be able to spell at the end of Year 2. This week we would like you to practise after, child, every, half, move, plant, whole, again, children and everybody. I wonder what creative ways you will come up with to make spellings fun!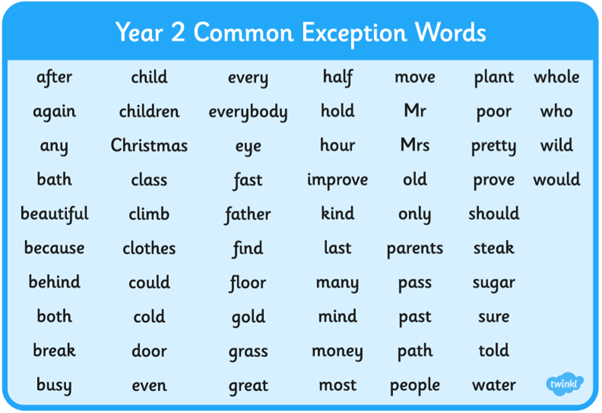 Topic Challenge: This week we would like you to investigate the seaside towns in the UK. Which ones have you visited? Which ones would you like to visit? Can you use the internet, maps and atlases to look at where some of our coastal towns are located and plot them on an outline of the UK? Is there anything you notice about where they are located? We would then like you to pick a seaside location in the UK and find out a little bit more about it. Is it surrounded by rural or urban landscape? Does it have any distinguishing features or landmarks? How many people visit every year? What makes it attract tourists?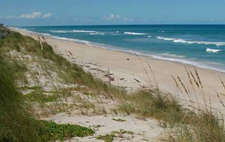 Science Challenges: Challenge 1: Can you research a seaside habitat? There are many different types of habitats in and around our coastlines. These range from the rock pools on the shores to different marine habitats. We would like you to choose a seaside or marine habitat and find our all about the plants and animals that live there. You can present your work in any way that you like; a poster, PowerPoint, booklet, you could film yourself and tell us all about it or anything else you choose. We can't wait to see your work so remember to share what you have been up to on twitter and our Facebook page.

Challenge 2: An experiment! The water in the sea is different to the water in our taps as it contains salt. We would like you to explore this further. Can you set up an experiment to investigate what happens to objects when they are added to water and salty water? You could also try adding different substances to water too, such as baking powder and sugar.
To set up the experiment you will need 4 glasses filled with water. (Can you think about what you will need to keep the same to ensure a fair test?) One glass will remain just water. (this is our controlled variable). Dissolve 2 tablespoons of salt, sugar and baking soda into the remaining 3 glasses. Then, make sure to write down a prediction for what you think will happen and why! Finally, add objects such as Lego figures into each glass (again how can we keep this a fair test?). What did you notice? Can you find out why you got the results you did?
Challenge 3: Materials: Over the holidays your Y2 teachers came up with some super new inventions. Do you agree that they are amazing? Why or why not? Can you use some scientific vocabulary, such as transparent, absorbent, to discuss why we are actually not very good inventors after all? Could you suggest better materials to use? Can you come up with your own crazy invention?

Art: We would like you to explore another of Anthony Browne's stories- Willy's Pictures. The story explores Willy's art portfolio, where he added himself and his friends to famous paintings by Leonardo da Vinci, Raphael, Vermeer, Manet and many more.
If you cannot find the story online, he is a link to use: https://www.youtube.com/watch?v=S0QqVCjsfTc
Can you find out the famous paintings that have inspired each of Willy's pictures? We would like you to choose one of the famous paintings to explore. Can you research about the artist and find out about their style of art? Could you recreate or your famous artwork by replacing humans with animals of your choice? Post your art on Twitter and in the Facebook group so we can try to guess the inspiration behind it!

PSHE: We would like you to use the link below to listen to the story Someone Swallowed Stanley- by Sarah Roberts.
What do you think is the message behind this story? Can you find out more about pollution in our seas and oceans and the dangers it poses to the wildlife? Here is a link to get you started.
https://www.bbc.co.uk/teach/live-lessons/blue-planet-live-lesson/zn7tkmn
Could you find a way to present your findings and perhaps encourage others to reduce, reuse and recycle their rubbish? You may like to create a poster or perhaps create you could present your own documentary.
DT: No trip to the seaside is complete without a visit to the ice-cream van! This week we would love you to design your own lolly! Can you think about the flavours and colours? What name will your lolly have? Remember to also design some eye catching packaging an assign a price you feel is reasonable. If you have a freezer and some juice or food colouring you might even have a go at making your creation- yum!
Music: Can you research any seaside/ocean themed songs? For example, Yellow Submarine, Oh I Do Like to Be Beside the Seaside, Under the Sea. Which is your favourite? Can you appraise a song? Or create a profile of the artist? Perhaps you would like to write your own lyrics, make up your own seaside song or create a dance or piece of art inspired by a chosen song?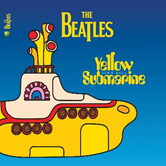 Finally, here are some morning tasks you may wish to complete to get you ready to learn each day.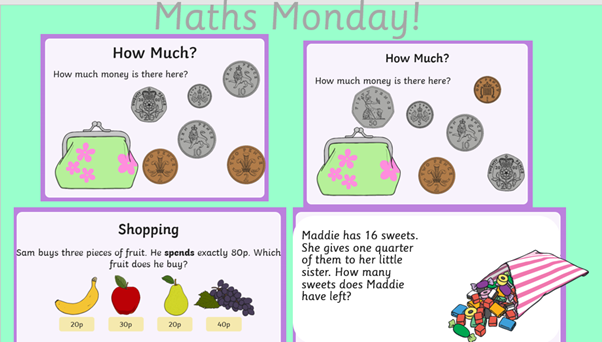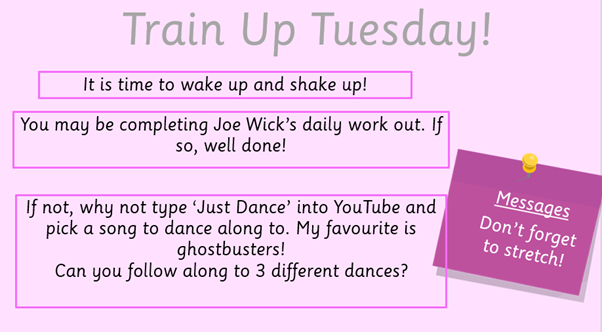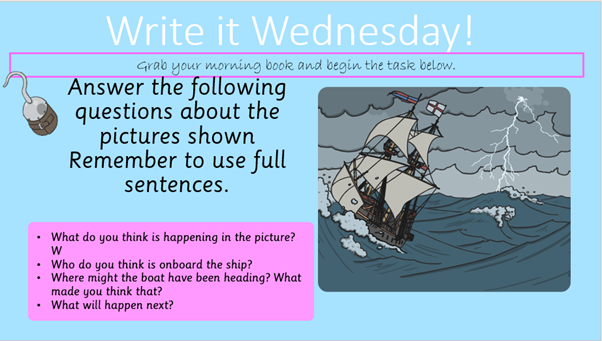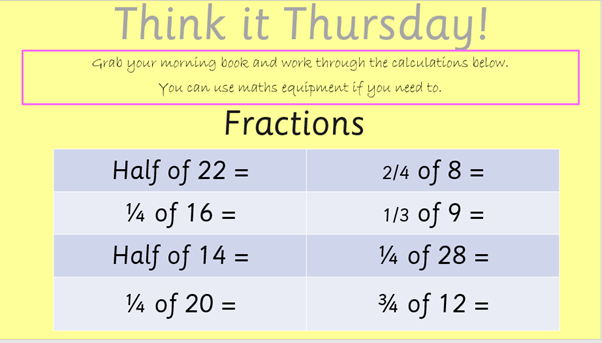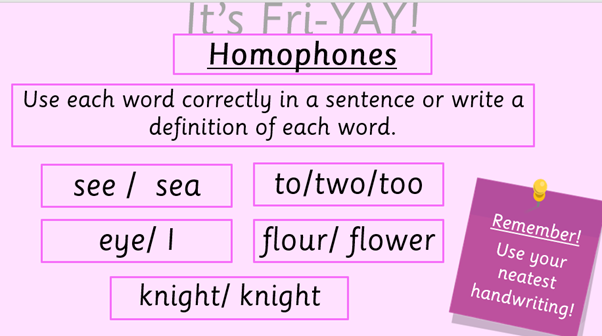 Please dip into these tasks as and when you need them.
Good luck, have a fabulous week and let us know everything you get up to! Sending love, hugs and big smiles,
Miss. Pearson, Mrs. Mullick, Miss Gowland, Mrs Patrick and Mrs Tadbeer.