Hi Year 2! A huge well done to anyone who has completed one or more of last weeks tasks, we hope you found a few of them helpful. As ever, these are here for if you need them but there is absolutely no pressure for you to complete any. Please just pick and choose as you see fit 🙂
Your teachers have LOVED speaking to lots of you on the phone last week and finding out about the lovely things you have been up to as we miss you all terribly! Do not worry if your phone has not yet rung, we have lots more calls to make this week- yours will be coming! In the meantime, remember you can always contact your teachers via the school homework email, by Twitter or on the FB page.
Keep up the super work and have a fabulous week!
Numeracy
]This week the White Rose lessons are a bit of a recap for us as we have covered this earlier in the year. They concentrate on addition and subtraction, looking at fact families, number bonds and the relationship between addition and subtraction. There are 4 online lessons and 4 worksheets to complete this week (as Friday is VE day) Week 3 Maths lessons – https://whiterosemaths.com/homelearning/year-2/
Once you have completed these we would like you to add and subtract larger numbers.
Can you remember the special ways that we do this in year 2?
Have a go at these using the pre-column method;
16 + 22 =          34 + 25 =           45 + 27 =          61 + 18 =           38 + 49 =
Now try these by drawing the tens and ones; (Remember, you may have to exchange a ten for ten ones!)
45 – 22 =    67 – 45 =          72 – 34 =             67 – 29 =             85 – 46 =

Problem Solving
The Tall Tower
You have been imprisoned at the top of the Tall Tower by the Wicked Magician! You can get out by climbing down the ladders. As you come down you collect useful spells. You can go down the ladders and through the doorways into an adjoining room, but you cannot go into the same room twice, nor climb up the ladders. The numbers in the rooms show how many spells there are in each one. Which way should you go to collect the most spells?
And which way to collect as few as possible?
Can you find a route that collects exactly 35 spells?



Find the Difference
Place the numbers 1 to 6 in the circles so that each number is the difference between the two numbers just below it.



Example: 5 – 2 = 3



Super Challenge – When you have tried this and got more than one answer you could try other things like having four rows of discs and use the numbers 1 to 10.
Literacy: Voices in the Park
This week we will be exploring our final Anthony Browne book, Voices in the Park. Here is a link so that you can listen to the story at home.
Lesson 1: Exploring the characters.
There are four characters portrayed in this story. Who was your favourite and why? Perhaps you could create a character profile of one of the voices, or maybe a comparison of them all? Who do you think had the best day out at the park and why?
There are four characters portrayed in this story. Who was your favourite and why? Perhaps you could create a character profile of one of the voices, or maybe a comparison of them all? Who do you think had the best day out at the park and why?



Lesson 2: Writing in the first person
This story is about an event, told from the perspective of 4 different characters. Can you write about an event from the perspective of two different characters? Did they think the event happened the same way? Did they both feel the same? Below are two examples you may or may not wish to use to get you started if you get a bit stuck for ideas.

Lesson 3: Instructions
Smudge makes Dad a nice cup of tea at the end of the story. Could you make somebody in your house a nice drink or a snack? Perhaps you would like to bake them something (with an adult supervising!)
Can you write instructions of what you did? Remember to use; Time connectives (first, then, after that) bossy verbs (put, mix, stir)and adverbs(mix slowly, stir carefully, pour quickly)

Lesson 4: Reviewing an author's work
We have now read lots of stories by the author Anthony Browne (Zoo, The Tunnel, Voices in the Park, Gorilla, Willy's Pictures). If you enjoy his stories, here are a few more to try. Into The Forest, Hide and Seek, What If? Little Frida (plus many more! Visit www.anthonybrownebooks.com)
Could you choose a favourite and tell us why? Could you create a book review about your favourite story discussing the plot, your favourite part/character, your rating and who you would recommend it to? You might be very clever and research a little bit about Anthony Browne too!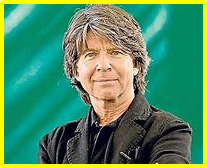 Lesson 5: SPAG: Commas in a list
This week we would like you to explore using commas in a list. We have provided a link below which talks you through the rules of using commas in a list correctly and has a little quiz for you too!

Your challenge is the next time your grown up needs to go to the shop, can you create a shopping list using commas? E.g. We need to buy eggs, milk, butter, cookies, fish and bread.
Remember: We do not need a comma before the first item and we use and between the last two items instead of a comma. Good luck!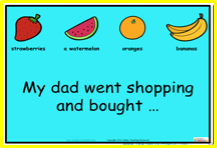 Science!
Challenge 1: Adaptations: There are many weird and wonderful creatures living within the ocean. Could you choose one (it does not have to be one shown below) and research;
Their habitat
How they protect themselves/defences
What they eat or what eats them
Any other exciting and interesting facts you can find out!

You can present your findings any way you choose e.g. poster/ presentation/ animation/ video



Challenge 2: Food Chains:
In Year 2 we explore food chains. Look at the food chain below.


Can you describe what is happening? Can you remember what the arrows represent? Can you label the producer and the consumers?
Once you have refreshed your knowledge, can you create your own food chain that you might find at the seaside? This may be in a rockpool, in the ocean, or in the surrounding area. There are loads of ways you could present your food chain, here are a few ideas;



Challenge 3: How do sharks float?
There are a few reasons why sharks have an ability to float, but in this experiment, we will explore if their huge, oil-filled livers help.
You will need: 2 balloons, oil, water, a large bowl of water (a both or sink would be perfect) optional: sharpie, dish soap



1. Fill one balloon with water and one balloon with oil. (To make it even more dramatic, use dish soap instead of water!) Put about 1/4 cup of liquid in the balloons so they are less likely to break! Note: Be careful not to get very much air in your water-filled balloon. Air will make your water-balloon float, which will confuse your experiment!
2. Use a sharpie or permanent marker to draw on your shark faces!
3. Place both balloons in the tub of water and see which floats!
Don't forget to make a prediction first and then share you results with us! Perhaps afterwards you could research the science behind this and any other reasons why sharks can float? That would make you an exceptional scientist!!
History:
We would like you to explore the book, FLOTSAM by David Wiesner. Before you begin, can you use your inference skills to answer the questions below?
What do you think the story will be about? What makes you think that?
What do you think Flotsam means?
Where do you think the story will be set? Why?


Watch the story using the link below. This is a picture book, so you have to look closely to decipher what is happening.
The boy finds a washed-up underwater camera. Does it look like cameras we see today? How is it different? What do you think the yellow cylinder inside the camera might be for? Do we see as many cameras nowadays? Why might this be?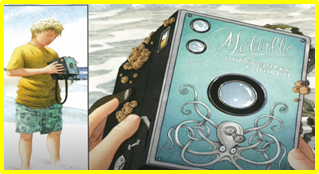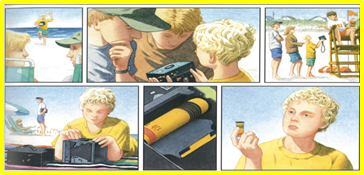 He then looks closely at some of the photographs taken by this special camera over the years. How have the pictures changed over time? Why do you think this is? Have the clothes changed?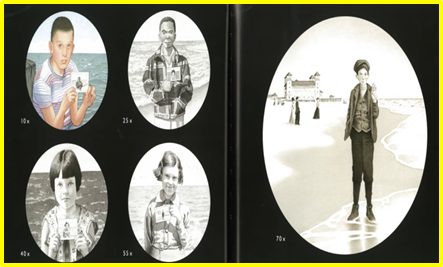 *Continuity and Change* We would like you to research what life was like at the seaside a long time ago. We have added some fun and informative YouTube clips to help get you started but you can research this question however you wish. You might even have some family members who may remember the seaside being very different when they were little!

Magic Grandad- The Promenade
https://www.youtube.com/watch?v=RZlL77ZfXkI&t=29s
Magic Grandad at the beach
https://www.youtube.com/watch?v=zWgnpY4L9so
Magic Grandad- Seaside Entertainment https://www.youtube.com/watch?v=exFmcLMjKsw

Can you create a comparison of seaside towns today compared to the past? You may like to explore the food available, entertainment, staying safe in the sun, swimming costumes etc. Once you have completed your comparison can you decide whether you think life at the seaside was better one hundred years ago or today. Can you convince us? Comparing changes over time makes you a wonderful historian!
PSHE
Below you will find some short videos to continue our learning about ocean pollution, the impact it has on marine animals and what we can do to help.
A Whale's Tale
http://www.viewpure.com/xFPoIU5iiYQ?start=0&end=0
Harry Saves the Ocean
http://www.viewpure.com/RU7AP4JUX-o?start=0&end=0
All the Way to the Ocean
http://www.viewpure.com/sZW2ByM623g?start=0&end=0
A few ideas:
You may just like to enjoy the videos and have a brief discussion about the important message- this is fine!
Perhaps you could become an inventor and design something that could help prevent so much pollution reaching our oceans or an invention to help clean up the oceans?
You may wish to create posters to explain to people the damage we are doing to the sea creatures and that we could even eat the plastic when we eat fish for tea!
Would you like to organise a beach litter pick for when we return to normality? Perhaps we could ask Mrs. Turner if this is something we could look at as a school?
Art
FLOTSAM has some lovely illustrations of magical underwater worlds captured by the magical underwater camera.
Could you use your imagination to draw your own mystical landscape. You can use any media you wish to colour and complete you incredible new world!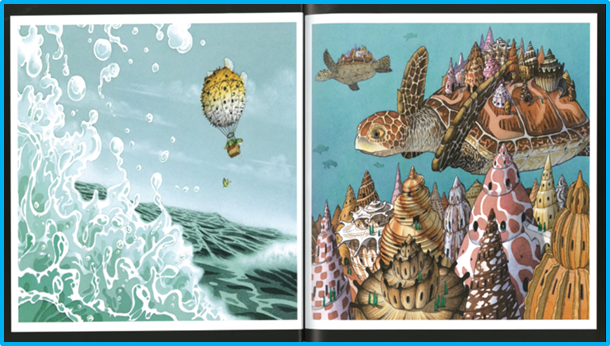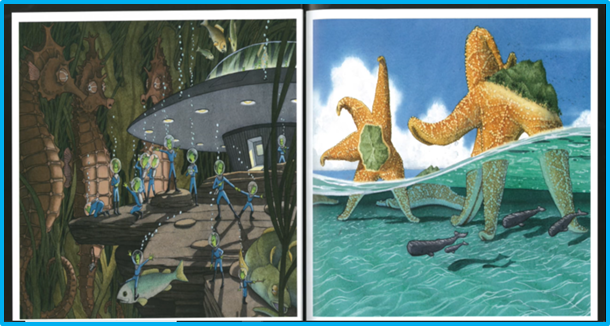 DT
This week your teachers are each going to have a go at making their own sock-topus. We would like you to get creative and crafty at home too! Can you use everyday materials in your house to create an animal that you may find at the seaside or in the ocean? The world really is your oyster for this task! However, we have provided a few ideas below if you would like a little inspiration to get you going. Good luck, we cannot wait to see your creations!



PE
It has been lovely to hear about all the lovely walks, bike rides and fun outdoors you guys have been getting up to. We have heard a few of you have used this time to learn to ride your bike without stabilisers too- a HUGE well done from us!
I know lots of you have been waking up to Joe Wick's workouts some mornings- very impressive.
If that is not your thing, here are a few links to our favourite Just Dance routines to follow along to;
Waka Waka: http://www.viewpure.com/gCzgc_RelBA?start=0&end=0
Ghost Busters: http://www.viewpure.com/RYgIVc5Jvjg?start=0&end=0
Dynamite: http://www.viewpure.com/eughyYPoExk?start=0&end=0
If you still need to burn off some extra energy, why not try setting up an obstacle course around your house or garden. HOWEVER, the challenge is you must complete each station as a seaside animal. Will this mean climbing the stairs like an seal? Or crossing the garden like a crab? How on earth will you jump from the sofa like a jellyfish? Good luck!
Finally, each week your Year 2 teachers would like to share a story with you as we really miss sharing books together in class. This is purely for you to enjoy. This week it is Miss. Pearson's turn.
Have a great week everyone and remember, the most important thing is to stay safe and happy and always keep smiling! 🙂
Love from your very proud teachers,
Miss. Pearson, Mrs. Mullick, Mrs, Patrick, Miss. Gowland and Mrs. Tadbeer xx