Last week Year 2 went on a historical trip to Newcastle and Gateshead Quayside.
We met Richard (That History Bloke!) outside Bessie Surtee's House which is the oldest house on the Quayside.
We went inside and learned all about life in Victorian times. We went into partners and had time to explore different artifacts to help us find out about different jobs.
Alice remembers that there was old keys, a police hat, hand cuffs and a really loud whistle. This was all belonging to the policeman!
There was also objects for a school teacher, a builder, a sailor, a coal miner, a cloth worker, and a rector.
After this activity we did some drama. We pretended to see a light in the middle of the night. What could it be….? It was a FIRE!
After lunch we went outside for a walk to see where and how the fire spread.
Charlotte remembers that the fire started in Mr Wilson's cloth factory which was just under where the New Tyne Bridge stands now. We shouted FIRE! FIRE!
Next stop was up the hill towards St Mary's Church where we stood and watched where the blue flames grew as the warehouse set on fire. The flames were blue (just like Freya's hair band) because the warehouse was full of sulpher! We made 3 explosions and screamed!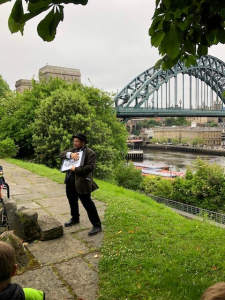 "It must have been very scary and the people would have been petrified" – Kayode
After the explosions, Richard took us to St Mary's Church to show us something really special.
"Inside there was something about Mr Bertram who was the man who owned the warehouse. He died accidentally trying to stop the fire by opening the door to his warehouse." Richard showed us a key just like Mr Bertram had and a snuff box which were the only two objects found when he died.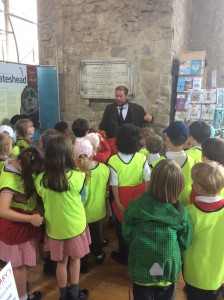 At the end of the day we made a song all about the events of the Great Fire and sang it to the tune of London's Burning.
We had a brilliant time and we want to say a huge thank you to Richard for helping us to learn so much about that dreadful night.