Hello Year 2! Are you ready for the last week of the half term? We cant believe how long its been since we saw some of you. Thank you for keeping us up to date with everything that you have been doing on Twitter and Facebook. It has been nice to see some of your work pop up in our emails too, what busy bees you've all been! Here are the tasks for this week, as always they are here for you if you want to use them but don't worry if you can't get them all done the most important thing is that you are all happy, healthy and safe.
Have a great week everyone!
Numeracy
For this weeks daily lessons we would once again like you to look at the lessons provided by BBC Bitesize. Everyday a new video and accompanying worksheet is uploaded with a challenge to complete on Friday. Here is the link to the BBC Bitesize home schooling page;

https://www.bbc.co.uk/bitesize/tags/z7s22sg/year-2-and-p3-lessons/1

You will see that there are links to other subjects which you can also have go at completing and also feel free to go back and look at some of the previous daily maths lessons too.

Please note – the links to the White Rose lessons and worksheets will be back after the half term break. We know so many of you love them!

Challenge 1 – Which Symbol?
Put in the symbols to make these number sentences correct.
Use + – x ÷ and =
For example:



Now try these: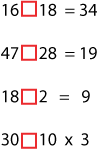 Super Challenge
All of these number sentences below, except two of them, have two solutions. Can you find the symbols to use?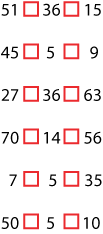 Which two number sentences only have one answer?
Can you explain why?

Challenge 2 – Break it up!
You have a stick of 7 interlocking cubes, you cannot change the order of the cubes.




You break off a bit of it, leaving it in 2 pieces.
Here are 3 ways that you could do it:





How many different ways can this be done?

Super Challenge
Now try with a stick of 8 cubes and a stick of 6 cubes.
Now how many ways can you find? Do you notice a pattern? Can you explain the pattern?
Can you predict how many ways there will be for 5 cubes? What about 20 cubes? 50 cubes? 100 cubes? How do you know?

Literacy
This week we for our literacy task, we are travelling deep into the ocean. We would like you to create your own underwater adventure in which a main character from within the ocean gets lost or stolen.
Here is our first lovely video from the Literacy Shed, called Oktapodi, to inspire you.
https://www.literacyshed.com/oktapodi.html
Another great film to help get your under-water imagination flowing is Finding Nemo! It is for research purposes that you must snuggle up on the sofa and watch this fabulous film. If you do not have access to this film, or you are short for time, here is the film condensed into 2 minutes!

Once you are feeling truly inspired, it is time to plan!
Characters
You need to decide on your characters.
Who will be your main character? A fish? A shark? A mermaid? A squid? What will they be called? What will they look like? What personality traits will they have?
Will you have a bad character? Will they live in the water or out of the water?
Will there be any extra characters? Perhaps someone who helps along the way? More baddies? Which other sea creatures might you include?
Can you create character descriptions to help you?
Setting
Where will your story take place? In the depth of the ocean? In the Great Barrier Reef? Within a rockpool? Will your story end up leaving the water as it does in the videos above? Draw and label atleast one setting for your story
Story Board
Create a storyboard of at least 4 squares to show what happens as your story begins, the disaster (a kidnap/someone gets lost/an attack) the journey/ rescue and the happy ending.
Become an Author
You are now ready to begin your story. Remember to include lots of extra detail, adjectives and adverbs, conjunctions and a range of punctuation. Can you think of some interesting story openers too? Try to avoid using speech as this is not something we have practised.
Share Your Story
Share your story with your family or friends. Your teachers would love to read it too so share it on FB or Twitter or please email it to homework@archibald.newcastle.sch.uk
SPAG- Plurals
This week we would like you to practise pluralising words. Remember, if a word ends in a hissing sound (x, ss, s, th, sh, ch, z) then you usually add -es. Sometimes when a word ends in a y, you need to drop the y and replace it with an 'i' before adding -es. e.g. party becomes parties
Can you pluralise the words below?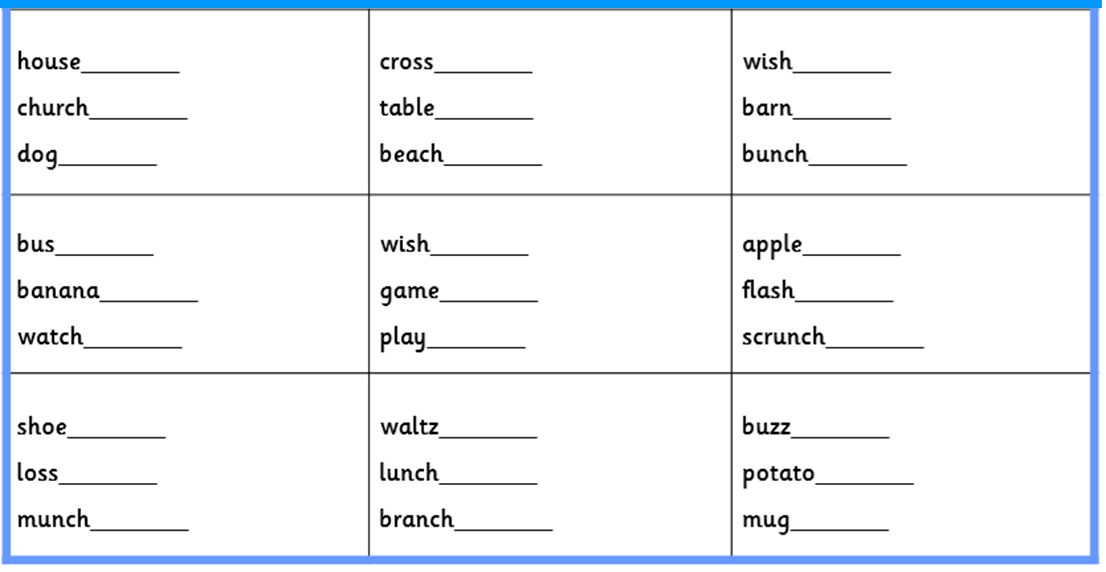 Geography
Challenge 1 – Location, location, location
How do seaside destinations in other countries compare to the seaside we have in the UK? This week we would like you to find out about a seaside location in a country that is not in Europe. It could be in any of the other continents of the world (can you remember what these are?) Once again you have the freedom to present your work in anyway that you choose; a poster, booklet, power point presentation or even film yourself like a news reporter!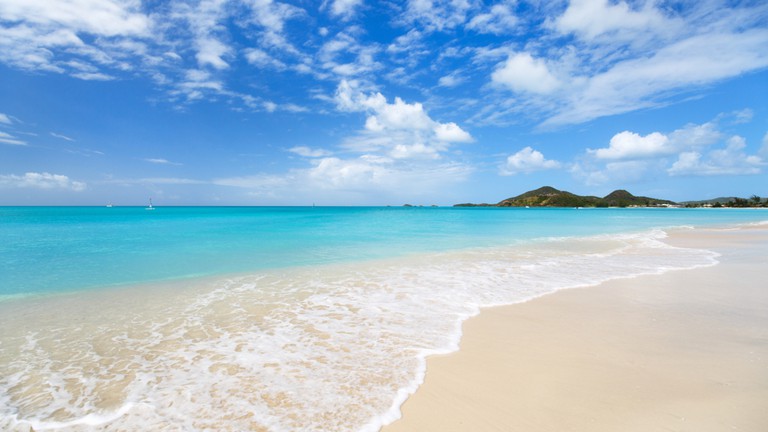 Challenge 2 – How are Beaches formed?
Have you ever noticed that not all coastlines have a beach? Have you ever wondered why?
This week we would like you to investigate how beaches are formed. Have they always just been there or is something happening to create them? Good geographers research and answer questions and then present their findings to others. We would like you to create a diagram explaining how a beach is formed. Your diagram should have pictures and sentences to explain what is happening and arrows to show the direction of events taking place. Decorate and make it colourful to make your diagram more eye catching.
Here is a video to get you started with your research;
https://www.bbc.co.uk/bitesize/clips/zc2pvcw

Challenge 3 – Super Suitcases
What would you pack if your were going to go on holiday to the destination that you have researched? Would this suitcase look the same if you were going on holiday to a coastal resort in the UK?

You have been challenged to pack a suitcase to go on holiday. The only problem is you don't know where you are going! Your suitcase will need to include all of the things that you might need for a months stay at an unknown coastal resort. It could be in any of the continents of the world, you don't know if you are going to be staying in a hotel (what if it is a desert island?), think about what the weather might be like (will it definitely be hot?) and what you might need to have fun, relax, stay safe… or even survive!
What would you pack?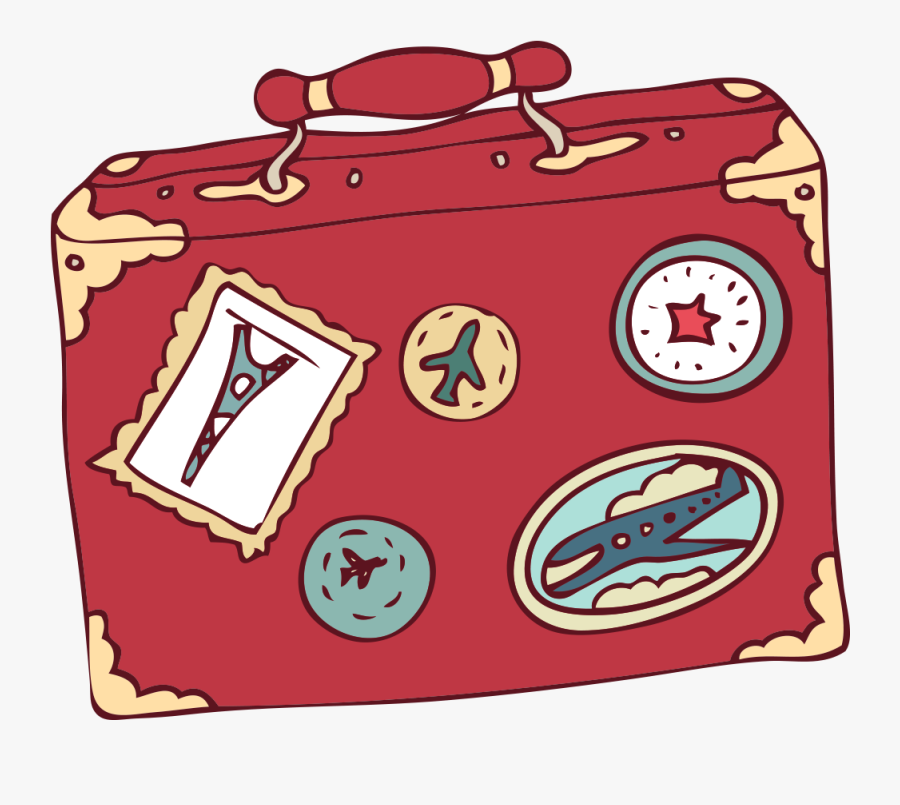 History
Just for fun – All do the Hokey Pokey!
No trip to the seaside is complete without an ice-cream, but for just how long have people been eating ice-cream on the beach?
In Victorian times ice-cream at the beach came in the form of a Penny Lick. Street vendors would sell ice-cream in a very small glass cup and the customer would lick it clean and then give it back to be reused. The problem was that the vendors very rarely washed the glass and disease started to spread (yuk!) This lead to the Penny Lick being banned in London in 1898.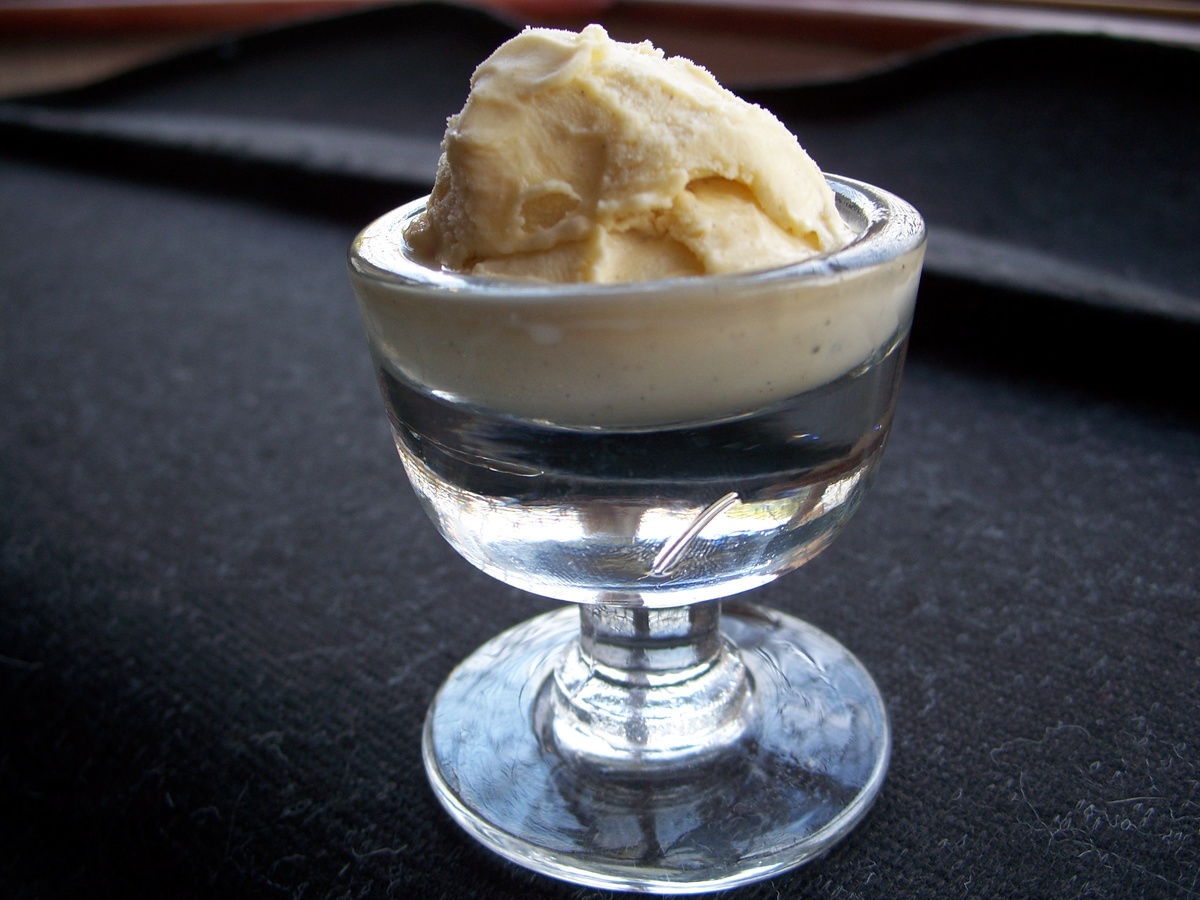 Fairly soon after this the waffle cone (that we know and love today) was invented but for a while people would eat Hokey Pokeys on the beach. A Hockey Pokey was a slab of ice-cream served on a piece of paper, the customer would lick it off and throw the paper away.

We have shared this video before but here is a 'Magic Grandad' episode where the characters try a Hokey Pokey.
We thought it would be nice if this week you made your own Hokey Pokeys!
In the nineteenth century they only had vanilla ice-cream but we would like you to get creative; what flavour will you chose? Will you mix flavours? Will you add toppings? Sauce? Sprinkles? Be sure to show us your creations on Twitter and Facebook!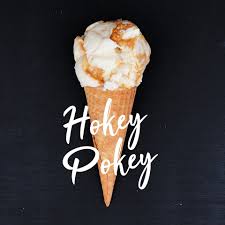 DT
For DT, we would like you to first listen to the story The Lighthouse Keeper's Lunch as this will inspire our DT and science tasks.
Task 1: Food: In the story, Mrs. Grindling makes Mr. Grindling a lovely lunch. We would like you to help create a picnic feast. This will allow you to help practise some of the skills we have learnt so far, such as safely chopping using the bridge technique, spreading and perhaps grating and peeling. Please make sure a grown is there to help you. You may also like to write down a menu or create invitations to invite family members to join you for your picnic!

Task 2: Pulleys: Once Mrs. Grindling has finished preparing her husbands lunch, she clips it onto the special wire that runs to the lighthouse. Can you design and create your own transport system for your picnic lunch? This may be a pulley system within the garden or through the house. You may wish to work on a smaller scale and create a moving picture where the picnic basket (and perhaps other parts!) can actually move!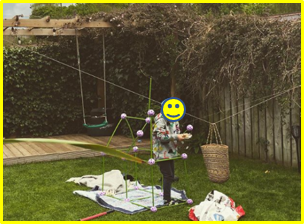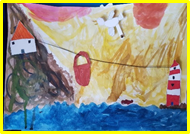 We cannot wait to see the creative ways you come up with to transport your homemade picnic!
Science
In both The Lighthouse keepers' Lunch and Finding Nemo, the seagulls are portrayed as very greed birds.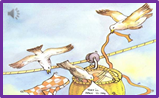 Science
Challenge 1: Materials
Mr and Mrs. Grindling tried hard to think of ways to stop the seagulls from getting into their picnic basket. Do you think they chose the correct materials? Can you carry out an experiment to help advise Mrs. Grindling? Choose 5 or 6 materials from around the house (these could be anything; Lego, wood, paper, tinfoil, marshmallows!). Can you carry out an experiment to test which is the strongest? You can choose how to approach this; you may wish to 'peck' at the materials with tweezers, or see which material can hold the most weight? Remember, Mr. Grindling needs his lunch everyday, even if it is raining. This might mean you have to find a material that is both strong and waterproof!



Challenge 2: Birds
Can you pick a bird to find out a little bit more about? What does a sparrow eat? Where do chaffinches live? Now have a go and see if you can create your own nest, bird feeder or bird box for the garden or to bring into school when we return for our outdoor areas. Here is a link with lots of different bird feeder recipes!
https://thehomeschoolscientist.com/easy-to-make-bird-feeders/#.VNS-Ylq5fHg
https://kidscraftroom.com/make-a-birds-nest-steam-project/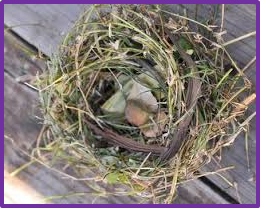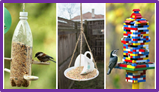 Challenge 3: Make your own Lava Lamp
This is a fun experiment to do at home with your grown ups.
You will need:
vegetable or sunflower oil, water, food colouring, 2 clear glasses and a fizzy tablet (like an Alka-Seltzer tablet)

What to do:
1) Fill a cup or bottle 1/3 full with water
2) Add a food colouring of you choice to the water
3) Pour oil into the coloured water – Don't let it over flow!
4) Ask your grown up to break the fizzy tablet into small pieces
5) Ask your grown up if you can have a turn at placing one of the fizzy tablets into the mixture – DO NOT touch the tablets without your grown up giving you permission and being with you.
6) Watch what happens and add more pieces of the fizzy tablet.

Top Tip – Shine a light under the bottle to make you experiment look even more like a real lava lamp!

Here is a video of how to make a lava lamp:
Have fun by experimenting with different amounts of water, oil, fizzy tablets and with different colours. What combination of these materials gives the best results? Do the results change if you use a different sized or shape glass or bottle?
Have fun!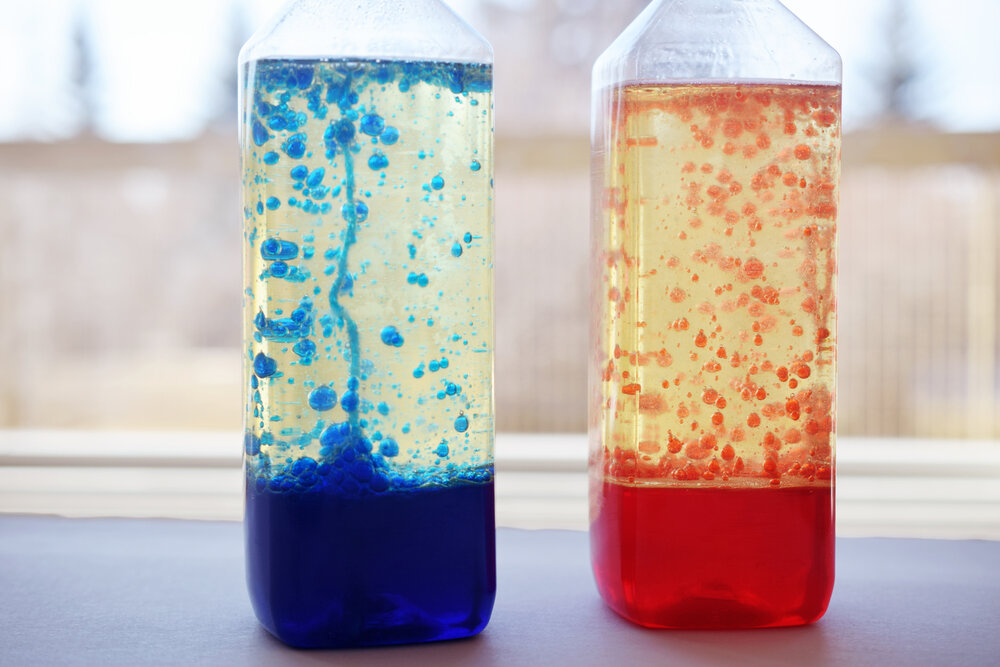 PSHE
This week is UK Mental Health Week. Looking after our mental health as well as our physical fitness is very important, especially in these strange and uncertain times. The theme of this week is 'kindness'.
Below are two short annimations and one lovely story all about what kindness means and the positive impact showing kindness can have on ourselves and others. It also helps show us the acts of kindness can be as small as smiling at someone or giving a compliment!
https://www.youtube.com/watch?v=t6NUJ2JZz50
Be Kind by Pat Zietlow Miller (story)
https://www.youtube.com/watch?v=8Wi0UWLeT9I
Be Kind to Others (short animation)
https://www.youtube.com/watch?v=rwelE8yyY0U – Colour your world with kindness (short animation)
This week we challenge you all (grown ups included!) to carry out at least 3 acts of kindness each day. You may wish to use the kindness calendar attached (or make your own) to document your progress and to help remind you are all the kindness you have been spreading around 🙂

Your teachers will each complete a kindness calendar for the week which we will share on the FB group. Lets get spreading that happiness!
Art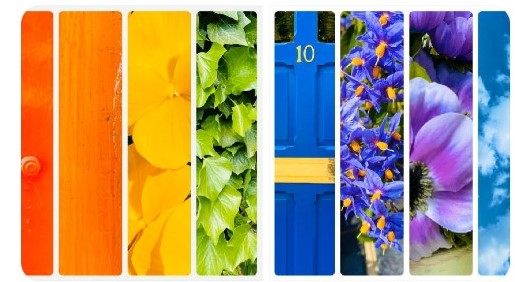 Challenge 1: Your first art challenge is to create a rainbow! Can you use objects from the environment, perhaps that you find on your daily walks, to create a beautiful rainbow? You may wish to take pictures of the different coloured items, or you may wish to create your rainbow from objects you can physically handle and place in order. You may even come up with your own creative way to display this challenge.
Challenge 2: We would like you to create a lighthouse landscape. (If you are creating the moving picture for DT, you may wish to combine these challenges) Below are 2 videos that you may like to use to help you draw your lighthouse. They are of differing complexities so which one you choose to follow may depend on how brave you are feeling!
Mrs Turner's Challenge!
Can you spell your name using only what you can see around you? Go on a hunt and take pictures of different objects within the environment that could represent each letter. You might even have a go at your surname too!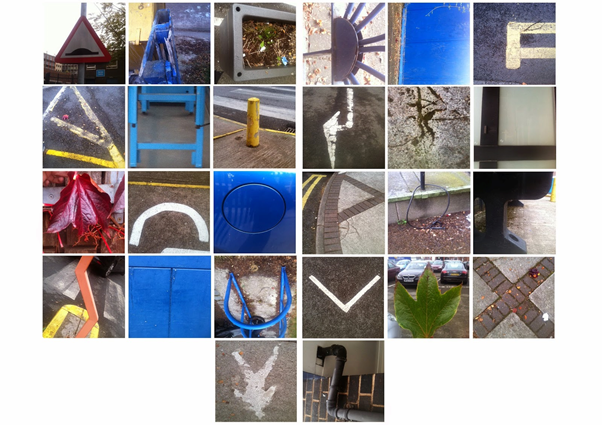 Our School Rules
Here is a copy of our new school rules!


Ready for when we all go back to school we would like you to have a think about these new rules. We have made them easier to remember and understand. What do these new school rules mean to you? How will you show that you can follow them? What do you think following the new school rules will look like in school?
We look forward to hearing what you think about them. Share your ideas on our Facebook page and on Twitter.
Finally, it is Miss Gowland's turn to share a lovely story with you all. She also had a little help from her gorgeous girl, Ella! It is a wonderful story and you it may inspire you to create your own Paper Dolls!
We hope you all have a fun filled week; play in the garden, get messy, bake, create, solve puzzles and (most importantly) laugh! Remember to help out around the house; why not do a job that mum or dad usually does or get them a biscuit or treat?
They deserve to be spoilt!
Enjoy you half term!
Miss you lots like jelly-tots,
Love from Miss. Pearson, Mrs. Mullick, Mrs. Patrick, Mrs. Tadbeer and Miss. Gowland xx