"Don't judge a book by it's cover, a crayon by it's label or a person by their appearance." – Class 9
In Class 9, we have been looking at the story of Red, the blue crayon. Everybody thought Red was a bit different so they didn't treat Red like the other crayons. Quite a few of the others had advice for Red, lots of it was positive but they said it in a negative way. They weren't focusing on the good things about Red, but Berry (the purple crayon) did! Berry could see that Red would draw an excellent sea, blueberries and even a blue whale. At last Red finally could draw a masterpiece, and the sky was the limit!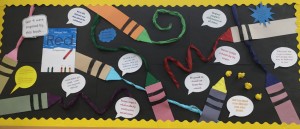 We had lots of good discussion about this book and we all shared our own ideas to help Red feel happy with friends, talents and himself.
Our thoughts:
Star Rating:
1 * – 0
2* – 1
3* – 1
4* – 7
5* – 20
Recommend to a friend: 26/29 children
"I enjoyed how it was linked to No Outsiders and lots of different crayons were in there as well as red." – Amber
"I like how he actually believed in himself at the end." – Django
"Red was really reaching for the sky!" – Esme
"I liked how he drew every single blue thing when he realised he was good at things." – Ben
"I really liked it when he met Berry and Berry actually noticed what colour Red was underneath his label." – Phoebe and Edith